New product alert: pillows, pillows, pillows! That's right, in celebration of our 20th anniversary and our favorite time of year – Earth Month! – Naturepedic is dropping more new products.
Why pillows? Consider this: you spend about a third of your life sleeping. Where you rest your head matters … a LOT. The right pillow can totally transform your sleep experience. But the wrong pillow can leave you sore and sleep deprived. That's not even to mention the unseen risks lurking if your pillow is made with toxic chemicals and, we hate to break it to you, but many conventional pillows are.
Most people replace their pillows every one to two years, but that doesn't mean that a quality pillow isn't an important investment; it is essential. Read on to learn why choosing the right pillow matters and meet our new lineup of organic pillows – Safe Healthy Sleep™ starts where you rest your head!
First Things First: Pillow Materials Matter
What your pillow's made of makes a big difference. It's important that pillow materials check these three boxes:
Made without toxins

Durable

Comfortable
Remember what we said about sleeping for a third of your life? You don't want to spend all that time exposed to toxic chemicals. Organic, non-toxic pillows don't contain toxic chemicals, harmful VOCs or flame retardants. And when it comes to durability and comfort, you just can't beat Mother Nature's finest: organic cotton and latex.
While some synthetic materials offer the sleep experience you need – without the questionable chemicals that you don't need – pillow fill materials like the highly flammable polyurethane foam typically come doused in chemical flame retardants. Polyurethane foam, including memory foam, can also make you feel hot and sweaty, so there goes your comfort, too. Learn more here.
What Else Is Important in a Pillow?
No two people sleep exactly the same. Your pillow ought to be a reflection of just that: your individualized sleep needs. The right pillow can promote the right sleep posture, which will help you sleep better and wake refreshed – without that "I must have slept on it wrong" ache in your neck.
Your pillow should allow for proper spinal alignment while you sleep, regardless of your preferred sleeping position. If your back is in the right position, your neck, shoulders and hips will follow. Back sleepers, side sleepers and stomach sleepers all require different support to keep them aligned. This is also where durability comes into play – you don't want a pillow that will flatten or lose its supportive qualities.
Beyond posture, remember that your personal preference matters, too. If it's not comfy, you won't sleep on it, so choose a pillow that gives you that "juuuust right" feeling.
New Organic Pillows You Need to Know About
Our pillows aren't made with toxic chemicals, harmful VOCs or any of the other bad stuff – you'll find Only Good Things in a Naturepedic. Beyond materials, these pillows are designed with your unique sleep needs in mind, and there's something for everybody. Take a look!
NEW! Organic Side Sleeper Pillow
Side sleepers have unique comfort and support needs – which is why we designed a unique pillow just for you! This GOTS certified organic pillow contours to your body and features a special curved shape for optimal spinal support. Combined with its loft and firmness, this pillow design provides side sleepers with soothing pressure point relief and neck support.
It's covered in organic cotton and filled with shredded latex for a buttery soft, naturally cooling finish. Oh, and no harmful chemicals, either – it's MADE SAFE® certified non-toxic, GREENGUARD® Gold certified for low chemical emissions and UL Formaldehyde Free validated. View the Organic Side Sleeper Pillow.
NEW! Organic Cotton/PLA Body Pillow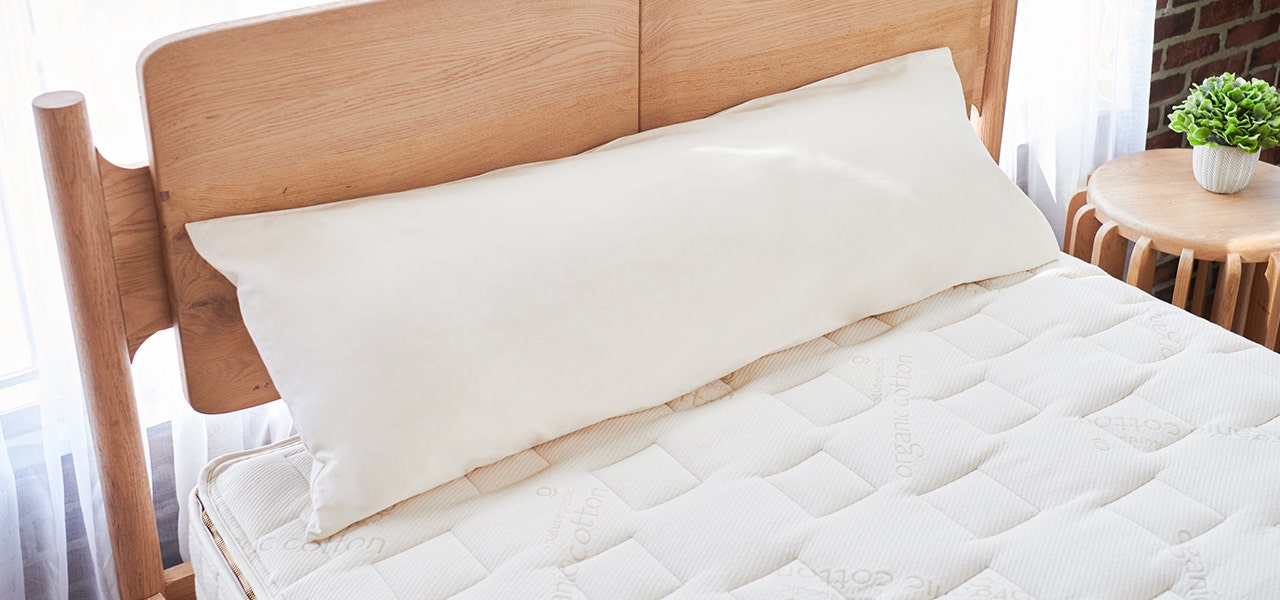 Another favorite for side sleepers and beyond is the Organic Cotton/PLA Body Pillow. You can find full-body comfort with this premium body pillow encased in silky-smooth organic cotton sateen and filled with PLA – a sustainable, fiber-based material that Naturepedic sources from non-GMO sugarcane. Beyond side sleeping, body pillows are beneficial to those looking for pressure-point relief or to reduce neck and joint pain.
Covered in certified organic cotton and made without any polyurethane foams or polyester fabrics that make you hot and sweaty, this MADE SAFE® certified, GREENGUARD® Gold certified and UL Formaldehyde Free validated pillow is breathable and naturally cooling, too. View the Organic Cotton/PLA Body Pillow.
We've Also Upgraded Some Old Favorites!
Already a part of the Naturepedic family? We've upgraded a few of your old favorites, too – check it out.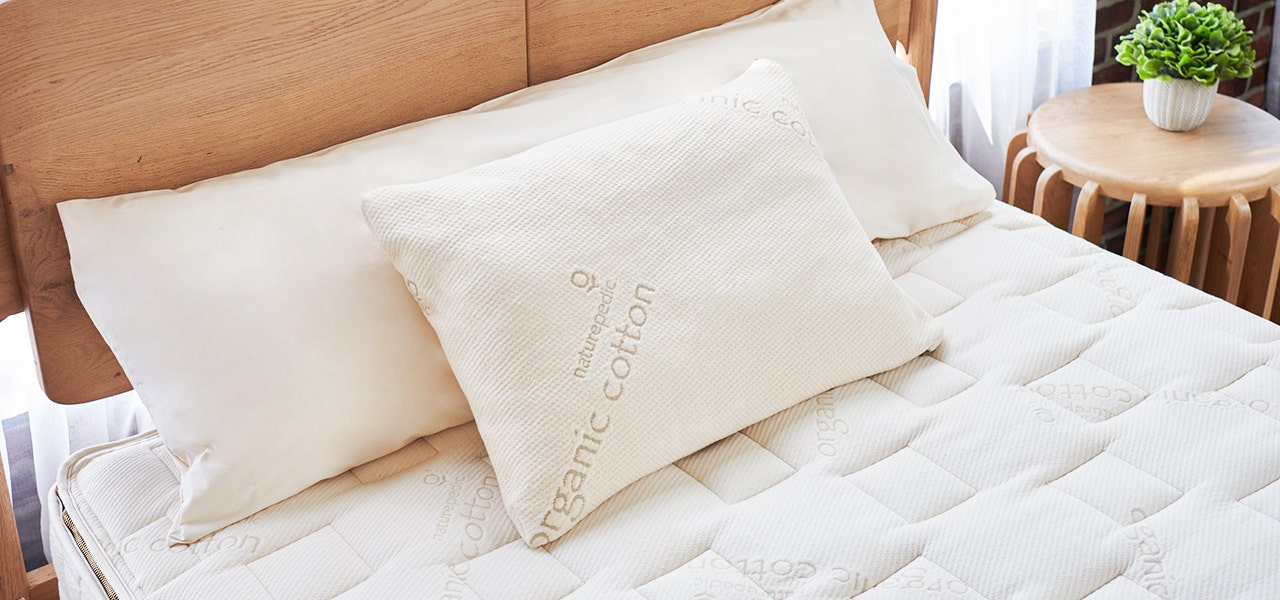 Organic Cotton/PLA Pillow
Classic, clean comfort – that's the Organic Cotton/PLA Pillow. Featuring a new, ultra-comfy organic, stretch-knit cotton cover, this pillow is filled with PLA batting derived from non-GMO sugarcane for a pillowy-soft feel that's planet-friendly, too. Oh, and the cover's machine washable, too – convenient and hygienic. This non-toxic also a great option for a safer, healthier pillow for those on a tighter budget.
Organic Adjustable Latex Pillow
Like we said before, no two bodies are exactly the same. This GOTS certified Organic Adjustable Latex Pillow allows you to create a feel that's made just for you. Wrapped in our signature organic cotton stretch-knit fabric, the Organic Adjustable Latex pillow offers easy zipper access to its shredded latex core, putting you in charge of just how firm or soft your pillow feels. You can choose soft, medium or 2-in-1 and can adjust the pillow's firmness ANY time you want. This one comes with a machine washable cover, too!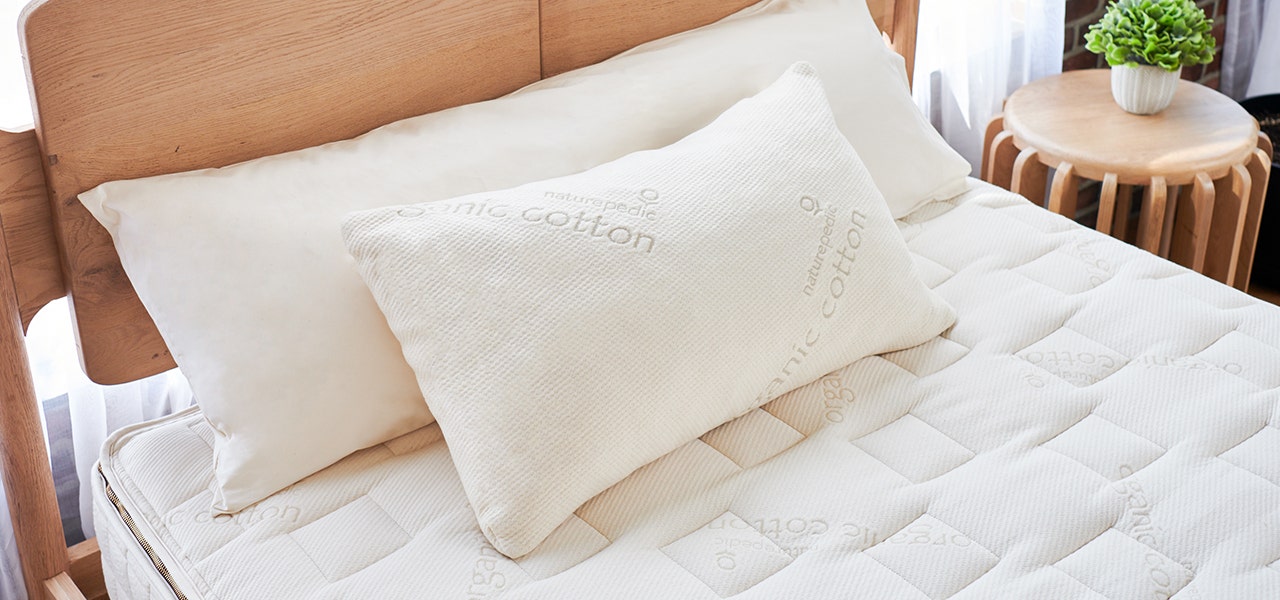 ---