By Lisa Janvrin, YouthfulNest
Ahhh, summer time. Kids are home from school and living the dream of long summer days and nights. Maybe you have gotten your kids on a nice summer schedule during the day, but if you are like many parents the nighttime routine can be a bit of a challenge.
For those like myself always looking for ways to encourage better sleep and improve the sleeping environment for their child, I have eight tips for summerizing your kid's room. Each one addresses a unique touch point in the bedroom and if used in combination with each other should have your child falling asleep sooner, sleep easier and staying asleep longer.
Lights Out
How many times have I heard frustrated mom-friends curse the long summer days that make bedtime a virtual nightmare. With kids asking night after night why they have to go to bed so early and why can't they keep playing since it isn't even dark out. If you can relate, you're going to love this first tip.
This first solution for the bedroom is easy and inexpensive, costing about $5-15. Mount temporary paper shades to your windows to turn day into night in a matter of seconds. You can find them in most every home improvement store. You can easily raise and lower the accordion folded blinds using the provided clips to tack them in any position.
These pleated shades from Redi Shade come in a few versions including Light Filtering, Light Reducing, and Blackout. We suggest going straight to blackout for the ultimate in reducing light entering your child's bedroom and keeping a cooler temperature.
Another benefit of this simple adhesive shade not only helps your little one fall asleep easier at night, the darkness also allows your child to sleep in past the crack of dawn. You can thank us later on this one!
Note: I recommend preparing the bedroom for sleep by closing the shades and blinds before your child gets in the room. Eliminating one excuse for not going to bed and thinking there is still time for play.
Lighten Up
Put away those furry flannel sheets and heavy velvet throws and make the bed with lightweight materials. When it comes to the most breathable and safe sleeping materials to keep your little one cooler this summer look for organic cotton and other natural fibers.
Start off your child's best summer sleep experience with an organic mattress. A Naturepedic Organic Mattress provides the ultimate base that will ensure years of safe healthy sleep. But don't forget where they lay down those sleepy heads! Upgrade those stale, hand-me-down pillows for fresh organic cotton cushions.
While Naturepedic is well know for their high quality organic mattresses, I also love their pillows. Naturepedic Organic Pillows are made up of organic materials inside and out. They come in toddler and low fill styles perfect for kiddos and are designed to wick away sweat, a must for those melty summer nights.
Next up are dreamy sheets. As the importance of organic bedding is becoming an obvious desire for parents, kid's bedding, like sheet sets are popping up everywhere in solids to very whimsical patterns and styles in all mattress sizes from crib to king. A simple pattern can add a little character to any bed, but compliment even the most mature room style.
A final summer bedding swap is going with an all natural, lightweight or light warmth goose down comforter. Tuck away heavy comforters and blankets and go with an organic down comforter. It's true that this natural bedding essential comes at a higher cost compared to synthetic versions, but it is an investment that will last a lifetime. A lifetime of regulated body temperature while you sleep means this type of cover will keep your child cool in the summer heat and warm in the chilly winter. Preventing them from overheating during sleep and becoming uncomfortable enough to wake up in a sweat.
You can find various versions of the organic cotton, GOTS certified down comforters at Crate Barrel, Coyuchi and The Company Store. Note: Going with a premium 100% organic cotton product made GOTS certified means there is nothing touching your child's skin except a safe, comfy and breathable material. A sleep time essential anytime of year. Learn more.
Cute and Cuddly
Next to the bedding there isn't anything closer to your child at bedtime than their pajamas and favorite plush toys.
I've seen kids that sleep with dozens and dozens of small plush toys collected from every birthday, amusement park or state fair. When things heat up in the summer keeping the plush toys to a bare minimum will keep kids from overheating in the middle of the night. Maybe suggest they choose just one favorite toy each night for some special one on one bonding with that bestie. Or if that doesn't work slip them out of the bed once they've fallen fast asleep?
What your child wears to bed in the summer will depend on a couple of things; the climate where you live and the temperature of your thermostat. Regardless of what they wear; bottoms, no top; top, no bottoms; short sleeve or long sleeve, going with an organic cotton is an excellent breathable material year round. I love these Burt's Bees kids pajamas, they are not only made of the highest quality organic cotton, the styles are adorable. They are noticeably softer than many brands I've purchased, even before you put them in the wash.
Keep Calm and Sleep On
Most likely your air conditioning has been running for months since the summer heat started hitting hard way back in the spring. But to help keep things from heating up and improve air quality in your kid's bedroom these two tips are sure things.
The first thing you can do doesn't cost a dime and takes just a minute. Keep your window treatments closed during the day to prevent the room from heating up in the first place. Shut the blinds, pull the drapes closed and batten down the hatches. Kidding, but you get the idea. Keeping as much heat producing sunlight out is a simple solution for combating heat during the day, so by bedtime the room is already cool.
My final suggestion may require a little more effort and money, but will pay off over the years to come. If you don't have a ceiling fan installed already considering swapping out that overhead ceiling light for a simple fan with a light. The style options are endless and are quite affordable – starting as low as just $30 you are sure to find one right for their bedroom.
A fan keeps the air circulating for better air quality and improved breathing while asleep. Clean air circulated by the fan blades helps to prevent mold and vanishes odors.
Another "cool" benefit is that the humming from a moving fan is that it acts as white noise, soothing those active babes and encouraging a deeper sleep.
*Disclosure: Lisa Janvrin is a compensated Naturepedic partner, all views and opinions are her own.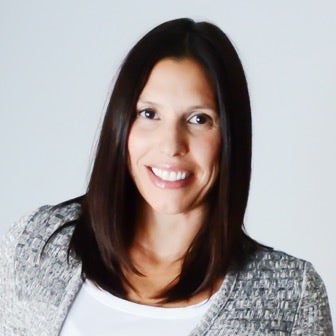 ---