How to Make Sure Breathability is Done Right
Are Breathable Crib Mattresses Safer?
Yes, but only if done right. It's no surprise that parents are inundated with conflicting claims about how to keep their baby safe. With September being Baby Safety Month, it's time to address one of the latest trends - BREATHABLE CRIB MATTRESSES. A breathable crib mattress typically has a porous surface that your baby can breathe through should they roll over face down – an excellent safety feature that may reduce suffocation risk. Breathable crib mattresses also help dissipate heat and moisture for less sweaty backs.
To be truly safe, however, a breathable crib mattress must also be waterproof to prevent fluids from seeping into the mattress where it can be difficult or impossible to clean. A waterproof layer at the mattress surface enables a quick and easy clean up after accidents and helps maintain hygienic conditions for the baby.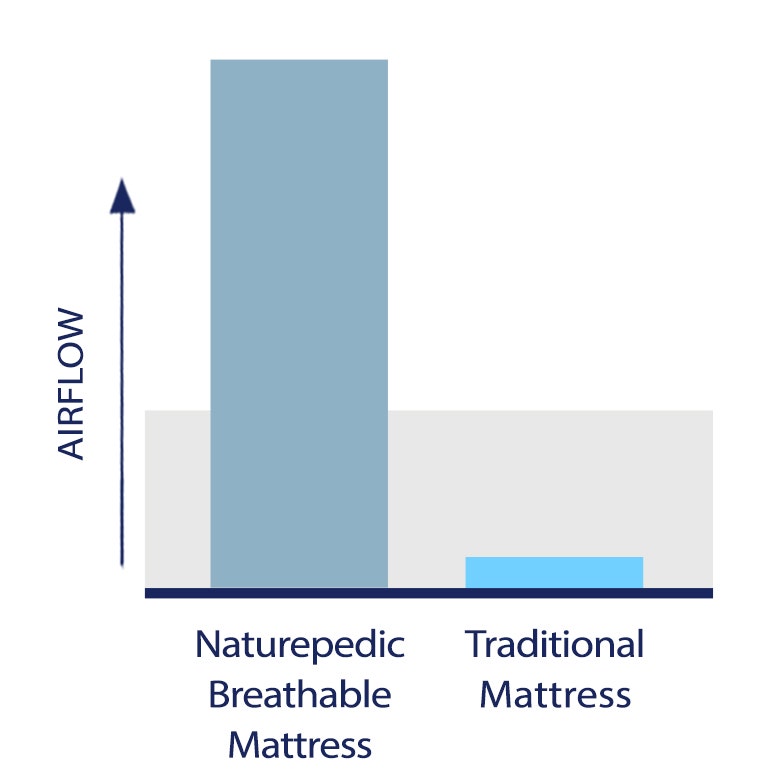 Testing conducted by an
independent third-party laboratory.
How Can a Crib Mattress Be Breathable and Waterproof at the Same Time?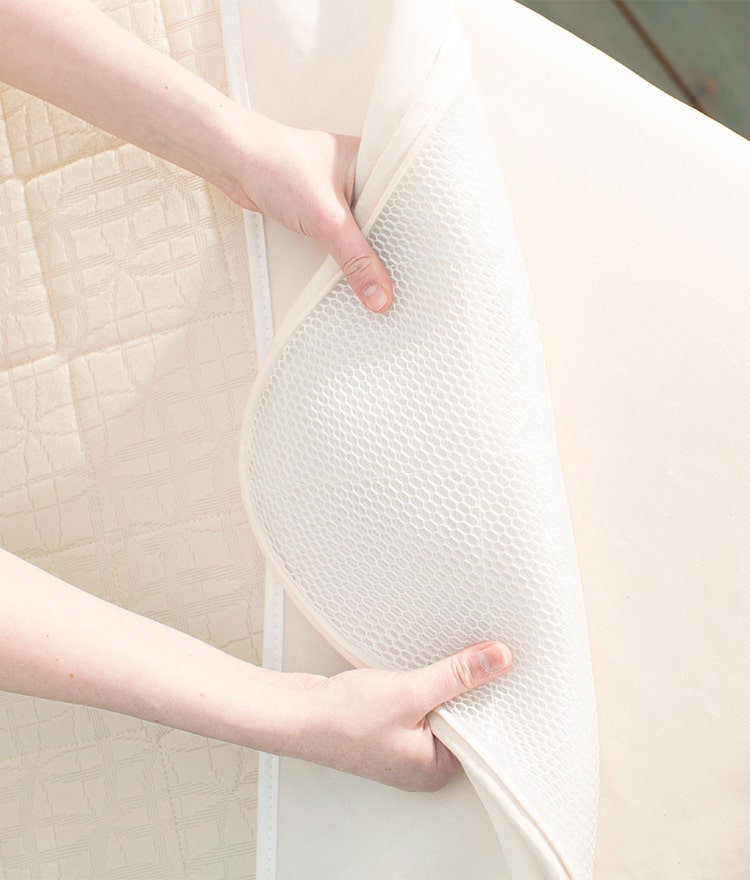 Breathable and waterproof seem to be counter to each other. If air can get through, so can urine, drool, spit up, spilled milk, etc. which can lead to microbial growth. Separately, most "breathable" crib mattresses are not actually breathable, they're just not waterproof. They have a non-removable non-waterproof fabric at the surface that can get soiled or stained without any way to be cleaned. Other designs are porous all the way through, and while these are indeed breathable, they introduce hygienic issues by allowing fluids to seep into the core of the mattress. They also require a lengthy washing process leaving your baby with nowhere to sleep, possibly for hours.
Naturepedic engineered a simple and practical solution. Instead of making the whole crib mattress porous, Naturepedic developed a breathable layer that is porous at the surface, allows air to flow freely, and is removable and machine washable. The best part is that under the breathable layer, you get a fully functional waterproof and non-toxic crib mattress. This means you get all of the functionality you would expect from a quality crib mattress including edge support, firm construction, 2-stage firmness and organic certification. If the mattress underneath the breathable layer gets soiled, you can just wipe it clean. Or if the breathable layer is in the wash, you can replace it with a spare or just use the underlying mattress which is still safe and comfortable.
Is the "Layer" Approach Just as Breathable?
Yes. Breathable baby mattresses have become so popular that one of the leading industry testing labs developed a "suffocation test" where mattresses get graded on how breathable they are. The test uses a simulated baby positioned face down and air is blown in and out of its mouth to simulate breathing. The suffocation test was done on the Naturepedic breathable crib mattress models and was compared to other designs. The results show:
The Naturepedic breathable layer scores in the lowest suffocation risk category (i.e. best).

There is NO additional breathability benefit to making the ENTIRE mattress breathable.
The simulated baby is able to breathe face down through the Naturepedic breathable layer indefinitely! With no additional benefit to making the mattress completely porous, why risk unnecessary hygienic issues and make cleaning difficult?
"The data clearly shows that Naturepedic crib mattresses with a breathable cover are five (5) times below the threshold of what is considered suffocation risk under the worst possible scenarios... it is not prudent to remove the waterproofing from a crib mattress as that only creates non-hygienic conditions... a safer approach is to keep the mattress hygienic and to add a breathable layer as is done with Naturepedic."
-Dr. Edwin F. Simpser, MD FAAP, Assistant Professor of Pediatrics, Hofstra-NSLIJ School of Medicine
So What Is Your Baby Actually Breathing?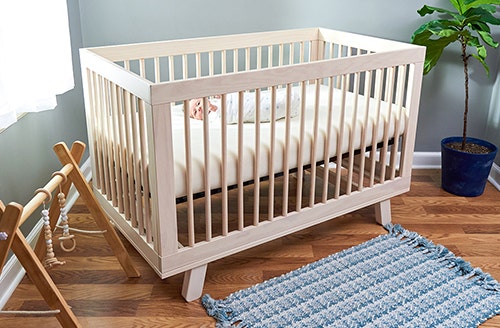 Breathable crib mattresses introduce a new concern. Is the air inside the mattress actually safe to breathe? Sadly, many breathable crib mattresses contain flame retardants, VOC off-gassing, and are susceptible to mold, mildew and other microbial growth. With Naturepedic, you get ORGANIC and BREATHABLE! Naturepedic never uses flame retardants or harmful chemicals. Plus, you also get an easy, practical approach to keeping your baby's sleep environment clean and hygienic. Naturepedic was founded on the principles of chemical safety and that mother nature provides the safest, healthiest materials available. With Naturepedic, you don't have to sacrifice these great qualities for breathability.
Breathability Done Right: Breathable + Waterproof + Organic
At Naturepedic, we created a line of breathable crib mattresses that check all the boxes. In fact, Naturepedic is the only manufacturer that provides all of the following benefits in a baby crib mattress:
CERTIFIED ORGANIC (meets the highest GOTS organic standard)
BREATHABLE (safest category for reducing suffocation risk according to an independant third party lab)
WATERPROOF (easy-to-clean)
HYGIENIC (no fluids reach inside the mattress + machine washable breathable layer)
NO FLAME RETARDANTS (meets all government flammability standards)
NO LATEX (avoids the allergenic risk of latex for babies)
CERTIFIED NON-TOXIC (certified by MADE SAFE and GOTS)
Our range of GOTS-certified, MADE-SAFE certified and GREENGUARD GOLD certified breathable crib mattresses are all about creating more airflow to surround your baby.
Naturepedic has succeeded in meeting the highest breathability standards on the market, without compromising on hygienic safety. Our breathable, waterproof baby crib mattresses feature a breathable cover, providing the necessary airflow for safety and comfort, and which can easily be removed, washed, dried, and kept clean. The underlying mattress is waterproof at the surface, to help keep the mattress core free of microbial contamination. This way when accidents happen, the surface can be easilty wiped clean. Plus, all Naturepedic mattresses are certified organic and non-toxic.
The bottom line? A breathable crib mattress must also be waterproof, easy to clean, and prevent messes from seeping into the core of the mattress. It's your baby that has to breathe, not the mattress, and that should always be the focus. With our safer breathable mattress design, you can rest easy, knowing your baby can breathe safely with Naturepedic.

Safe In Every Way
-Heather
(Verified Buyer)
"We're extremely happy with our Organic Breathable 2-Stage Baby Crib Mattress by Naturepedic. It gives us peace of mind to know that our baby can safely sleep on this breathable mattress even though he flips onto his face often. We also love that he's not breathing in any harmful chemicals. This is the only mattress we'd buy for our babies."
Experience Naturepedic's Breathable Technology Today!
---