What's something that's invisible to the eye but can wreak havoc on our health? No, this isn't a riddle – it's reality, and the answer is chemicals. Today's food, household cleaning products, personal care products, non-organic mattresses and more are made with harmful and questionable chemicals, many of which didn't even exist 50 years ago.
In fact, of the 85,000 synthetic chemicals introduced into the environment in the century, fewer than 10% have even been tested for their effects on human health – and far fewer have been banned. But, surely the powers that be take extra precaution with baby products, right? Wrong.
Many people are under the impression that companies wouldn't intentionally sell products that weren't safe – especially baby products. Unfortunately, that is not the truth, and there's never been a more crucial time than right now to become your own advocate and do your own research as a parent.
Considering that newborn babies sleep up to 16 hours a day, your baby's crib mattress is a particularly important item to understand. Naturepedic was founded by Barry A. Cik, a board-certified environmental engineer with a long history of advocating against off-gassing toxic chemicals, and we're happy to share our insight. Here's what you need to know about crib mattresses and off-gassing.
What Is Off-Gassing Anyway?
Have you ever opened a brand new package of something you ordered and been able to smell the item? That would be off-gassing. In simple terms, off-gassing is the airborne release of chemicals or VOCs (volatile organic compounds) in vapor form. Any time you can smell a product, whether it's new paint, clothing, mattresses and more, off-gassing is taking place.
Many products and materials continue to off-gas even after that "new" smell has seemingly dissipated. The chemical fumes become more subtle, but they are still present in the air you breathe.
Some harmful chemicals don't release an odor at all when they off-gas – giving new meaning to the phrase "silent but deadly." Over time, repeated exposure to these chemicals can cause serious health issues, especially for babies who are most vulnerable and whose systems are still developing.
5 Common Off-gassing Crib Mattress Materials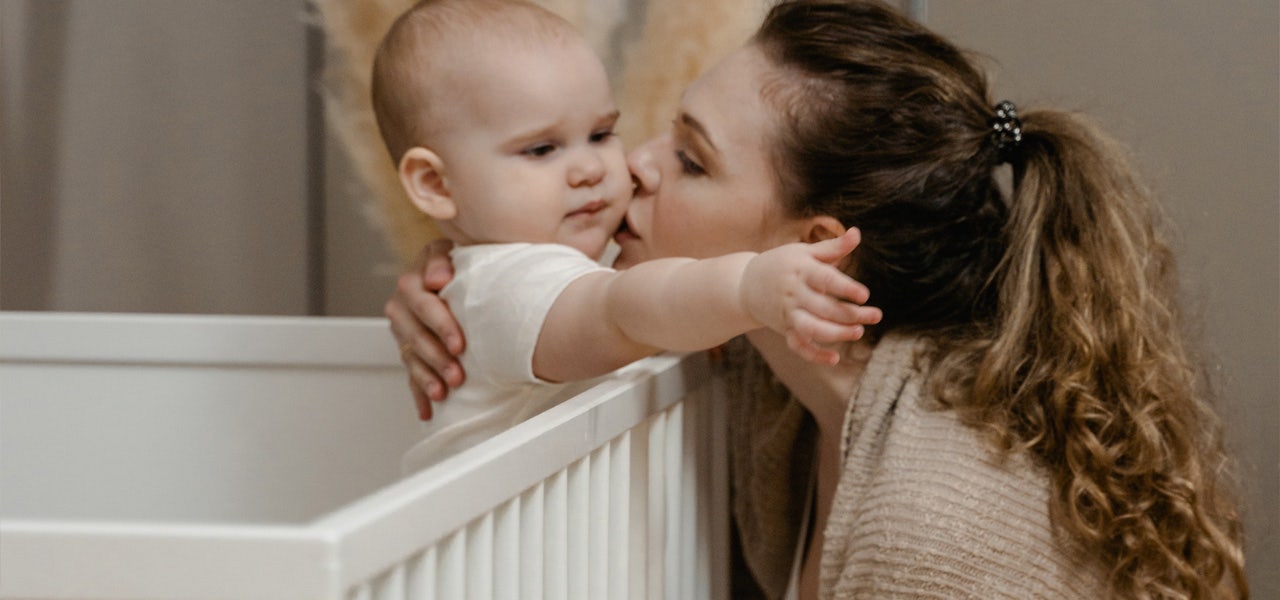 Conventional mattresses, including crib mattresses, are one of the main culprits for off-gassing in the home. Some people (and worse, some companies) dismiss or downplay the harmful effects of the questionable materials used in non-organic mattresses. Chemical companies may defend themselves saying everything off-gasses – flowers, fruit, wood. Yes, off-gassing occurs everywhere. But we're talking about off-gassing of chemicals.
Certain off-gassing fumes are way more harmful than others. The following are some of the worst off-gassing offenders in crib mattresses and their potential health risks to your little one. Keep in mind, this is not an exhaustive list by any means, but hopefully this gives you a solid starting point as you research non-toxic crib mattresses.
1. Polyfluoroalkyl Substances (PFAS)
PFAS are a common chemical additive for waterproofing crib mattresses. PFAS have been linked to a growing number of serious health concerns like kidney cancer, lowered birth weights, and immune and endocrine system disruption. In fact, 99% of the population has measurable amounts of PFAS in their bloodstream!
If you're also an eco-minded parent, you'll also want to know that PFAS are not naturally biodegradable and are known as "forever chemicals" because of their lasting harm to our planet. There are more than 5,000 PFAS and you'll find them all throughout your home. Learn more about PFAS here.
2. Vinyl/Phthalates
Vinyl, which is made from phthalate plasticizers, is another chemical added to many waterproof crib mattresses. A vinyl crib mattress surface is a potent source of off-gassing as the phthalates (a known animal carcinogen) do not stick well to vinyl and therefore circulate in the air. Vinyl and phthalate exposure has been linked to:
Nervous system dysregulation

Behavioral issues

ADHD

Depression

Anxiety

Child IQ deficits

Decrease in memory
3. Formaldehyde
If this post hasn't shocked you yet, the mention of formaldehyde in connection to a baby's crib mattress ought to get your attention. Formaldehyde is a known human carcinogen that has been associated with cancers of the lower respiratory tract and with leukemia.
When inhaled, formaldehyde can also cause irritation and damage to the nose, throat and lungs and can increase the risk of developing asthma. Shockingly, this toxin can also still be found in many crib mattresses as an adhesive. At Naturepedic, when we say we use no glues or adhesives in any of our mattresses, this is why it matters so much.
4. Flame Retardant Chemicals
Flame retardant chemicals are added to crib mattresses with the intention of preventing or slowing the spread of fires. Although perhaps well-intentioned, these harmful substances have been linked to:
Neurological impairments

Immune and endocrine system disruption

Chronic health issues

Cancer
So what's the alternative? At Naturepedic, we believe the best flame retardants are none at all. We design our mattresses to meet all government flammability regulations without using flame retardant chemicals or barriers. This is in part due to the organic materials we use that burn at much slower speeds.
Mothers have even been known to pass flame retardant chemicals to their babies through breastfeeding! So, you may want to consider finding a certified organic and non-toxic mattress for yourself, too.
5. Polyurethane Foam/Memory Foam
Polyurethane foam, including memory foam, is a widely used petroleum-based material providing comfort and support in many conventional crib mattresses, as well as mattresses made for adults and kids. This foam, though affordable and comfortable, is too close to gasoline for our comfort.
What's more, polyurethane foam is highly flammable, meaning that it requires all those toxic flame retardants we just discussed. It is also a porous material that compresses to trap heat and can make babies feel hot and sweaty. Without proper waterproofing, this porous material can harbor mold and contribute to respiratory issues.
How to Vet Crib Mattresses for Off-gassing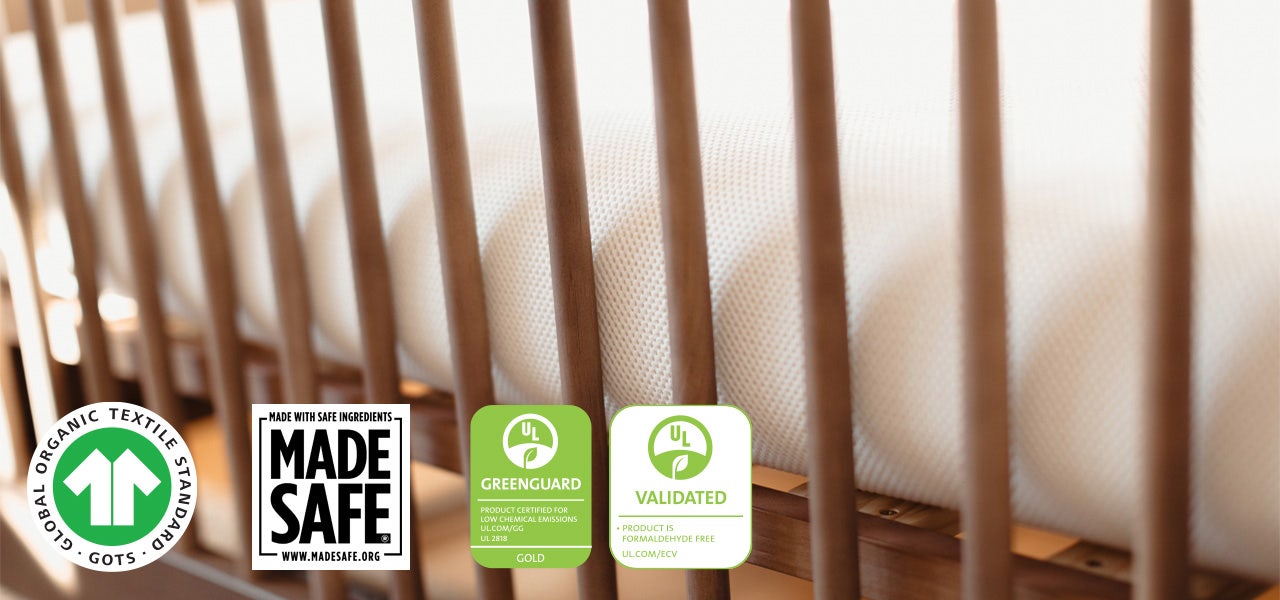 When shopping for a crib mattress, it's important to always read the list of materials for the product prior to purchasing – especially now that you know what to look for! Not super comfortable in your knowledge of chemistry? Luckily, there are some trusted third-party organizations that help do this work for you.
In terms of off-gassing, the GREENGUARD Gold certification specifically tests products, including crib mattresses, for chemical emissions. UL Solutions also verifies products as UL Formaldehyde Free.
However, at Naturepedic, we recommend going beyond these standards. For this reason, we suggest that parents look for crib mattresses that are both:
MADE SAFE® Certified Non-toxic
MADE SAFE is the first non-toxic seal in the U.S. Its list of banned substances spans 6,500+ ingredients, including off-gassing VOCs, flame retardants, known carcinogens and many others. A crib mattress with a MADE SAFE seal certifies that it was made without any chemicals known to cause harm to humans.
GOTS (Global Organic Textile Standard) Certified
GOTS is the world's leading organic certification for fiber-based consumer products, including mattresses. If a crib mattress is GOTS certified, it means that the fibers are 95% organic and the accessories are all approved. Additionally, a GOTS certification ensures that all of the crib mattress's processing stages – including manufacturing, packaging, labeling, etc. – have met strict criteria for human toxicity, along with environmental impact, technical quality, and fair and safe worker conditions.
At Naturepedic, we believe that chemicals are "guilty until proven innocent." Our company was founded on the desire to create a safer, healthier crib mattress, and this commitment to chemical safety remains at our core. Our full line of organic crib mattresses comes with all the certifications we just discussed and is made with materials you'll recognize – like certified organic cotton – and without allergens like latex or wool. Sure, we may sound biased, but we always say: When your baby can't be in your arms, the safest place is a Naturepedic.
Browse our certified organic and non-toxic crib mattresses here.
---
---