the ultimate organic pillowtop mattress
Transforms from a firm to an ultra-plush, and everywhere in between.

Review of EOS King Mattress
"This is the most luxurious mattress that exceeded our expectations to such a degree that our parents purchased the identical one! We really like that we were able to customize each side of the bed according to our preferences."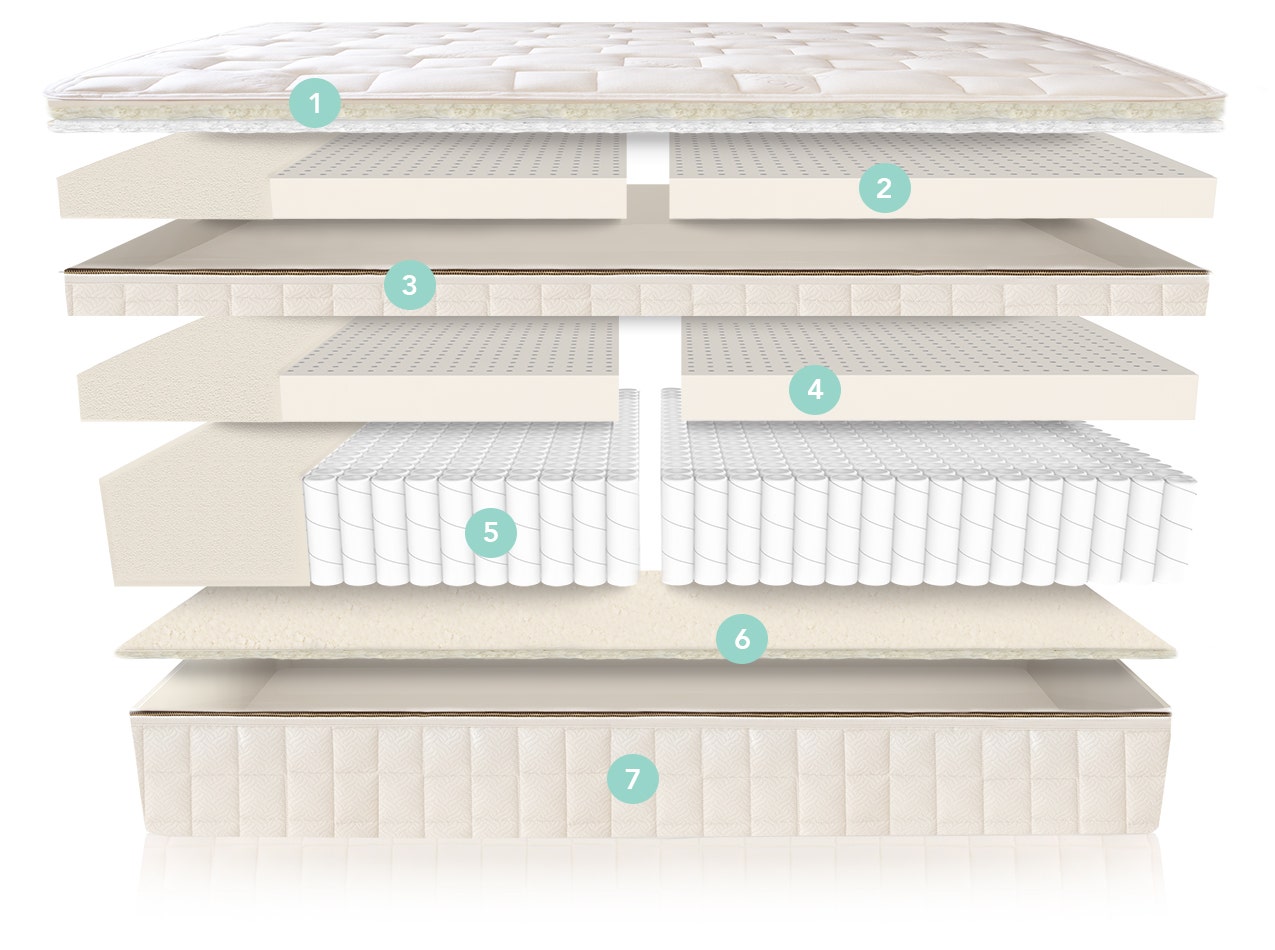 what's inside

quilt (organic cotton fabric + organic wool batting + pla comfort layer)

3" organic latex comfort layer (organic cotton outer encasement)

attached pillowtop encasement (organic cotton fabric + organic cotton fill + solid brass zipper)

3" organic latex comfort layer (organic cotton outer encasement)

8" encased coils with edge support (organic cotton outer encasement)

organic cotton batting

mattress encasement (organic cotton fabric + organic cotton fill + solid brass zipper)
Layers are split for queen, king and california king. This allows for independent customization.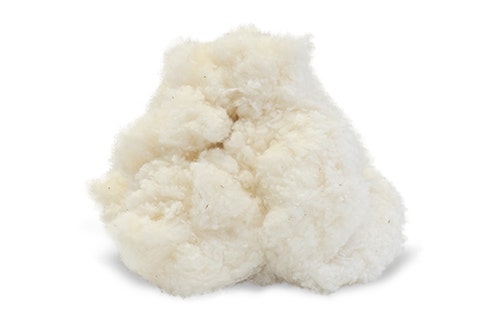 ORGANIC COTTON FABRIC + FILL
Organic cotton is the purest form of cotton and a healthier alternative to synthetic fabrics and foams. Naturepedic uses only U.S. grown and certified organic cotton as filling for its mattresses and buys directly from USDA certified sources. You'll also love our luxurious stretch knit fabrics. They're soft to the touch and easily stretch to conform to your body.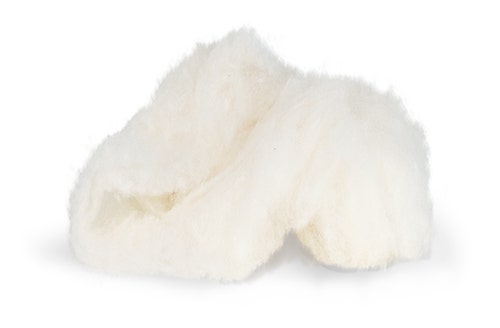 Wool wicks away moisture, provides natural fire protection, and offers temperature regulation, keeping you warm in the winter and cool in the summer. It has a natural crimp that gives it bounce, body, and soft support characteristics. Plus, Naturepedic's organic certifications ensure healthy, well-treated sheep and the elimination of harmful chemicals during processing.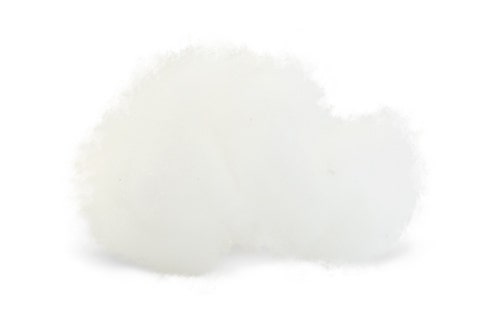 PLA is a high-performance synthetic fiber made from non-GMO sugarcane that adds resiliency and improved moisture wicking for a more comfortable night's sleep. PLA is a plant-based material used in a variety of industries, including food packaging and medical supplies and does not contain or off-gas harmful chemicals.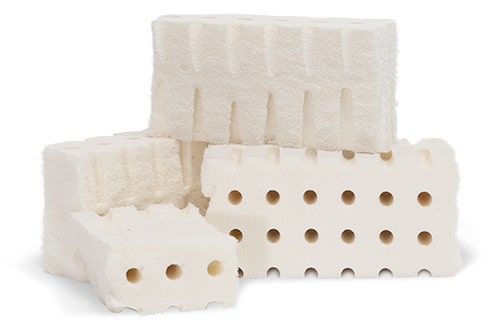 Latex is known for its comfortable pressure-point relieving qualities. Best of all, it's made from the sap of a rubber tree! Unlike synthetic and even all-natural blends, all of our latex is GOTS approved for use in certified organic mattresses and is sourced from reputable certified suppliers. This ensures purity, fair labor practices and support for our planet's rubber tree forests.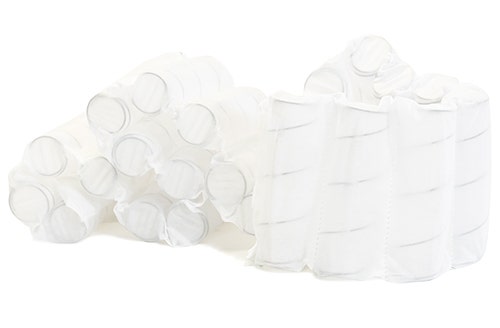 Our encased coils are individually wrapped for full body-contouring comfort, isolation of movement, and balanced support for proper postural alignment. Also features full perimeter edge support. The coils add just the right amount of bounce while providing excellent breathability and heat dissipation. Made in-house without ANY glues or adhesives (a Naturepedic exclusive).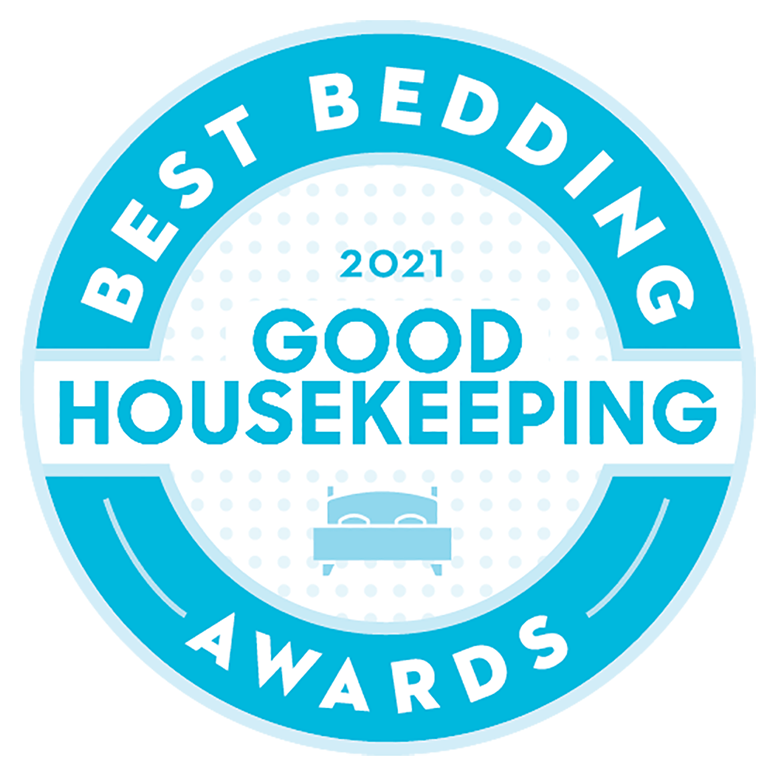 Naturepedic EOS Pillowtop Wins The Good Housekeeping 2021 Bedding Award for "Best Sustainable Mattress"

Our EOS Pillowtop Organic Mattress was selected as the "Best Sustainable Mattress" in the Good Housekeeping 2021 Bedding Awards. It was picked for its unique customizable design... The judging process included rigorous testing by Good Housekeeping Institute Textiles Lab scientists, home editors and OVER 100 CONSUMER SLEEP TESTERS.
"Because each side is separate, movement on one side doesn't transfer to the other," noted one Good Housekeeping tester.

"I love all our beds. I can rest knowing my family is sleeping on comfortable material that is not harmful to their health. Easy to put together. Thanks Naturepedic!"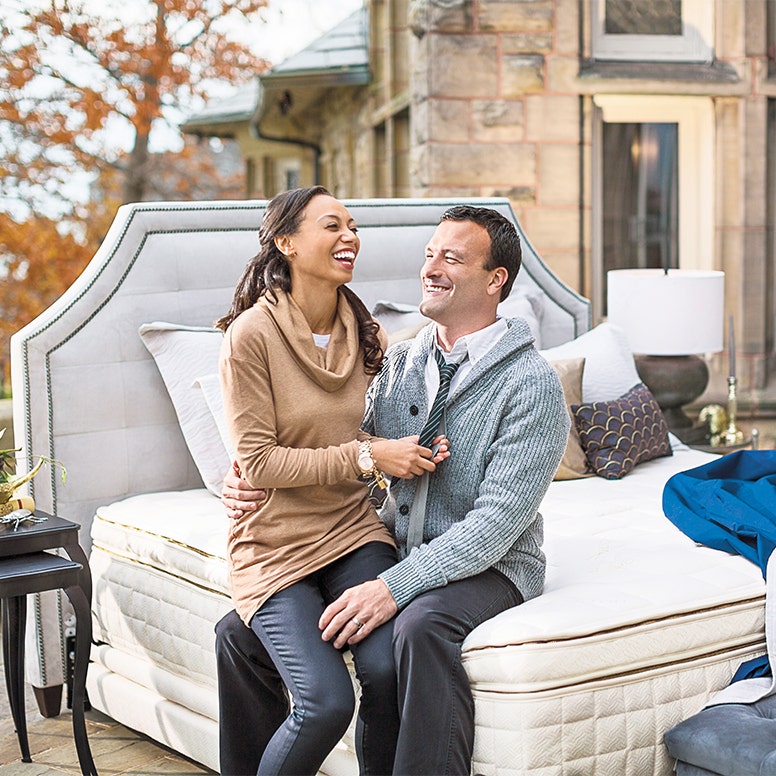 fresh modern design
Our European-inspired design features beautiful fabrics that are comfortable, luxurious and soft to the touch. The EOS Pillowtop's multi-layered zippered construction allows for a truly customized mattress experience, providing flexibility as your needs change over time. The EOS Pillowtop feels as good as it looks, and with its modern approach to mattress design, it will inspire great dreams for years to come.
personalized comfort
EOS is all about you. You get to choose how you want your bed to feel and we designed it in a way that maximizes your personal comfort and flexibility. Your sleep partner also gets to choose their sleep preferences so you'll never have to compromise. And with the Pillowtop version, you get three full layers of customizable comfort.
The EOS Pillowtop is packed with real fibers that wick moisture and help keep you cool all night. Its hybrid design features organic latex and a contouring support system that actually gives heat somewhere to go. EOS is by far our favorite and most popular mattress!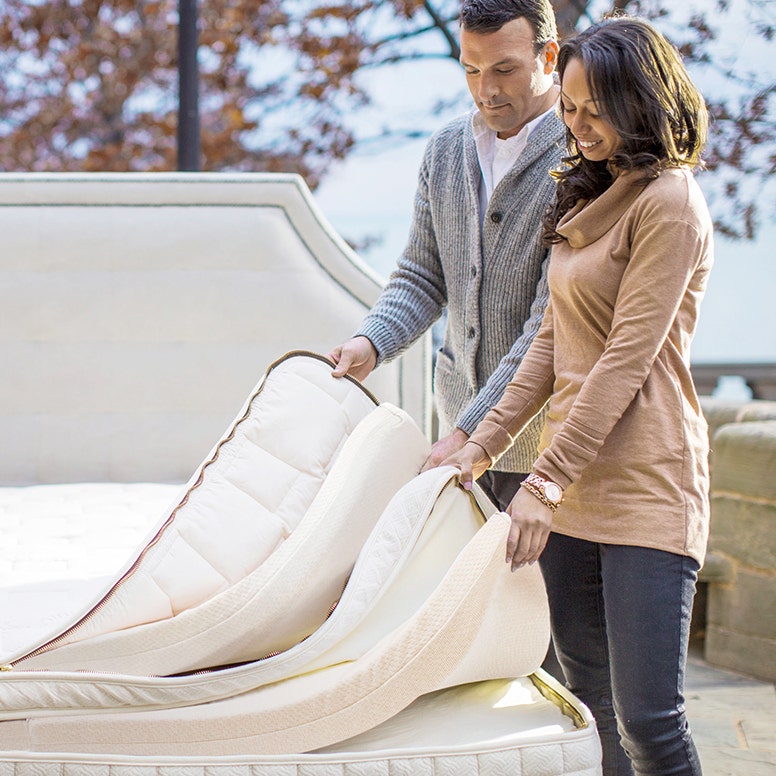 COMFORT GUARANTEE
In addition to our standard 90 day money back guarantee, you can swap any EOS layer within those 90 days for FREE! Simply purchase your new layers and return your original layers using a prepaid return label. You will then be refunded the full amount of the new layers!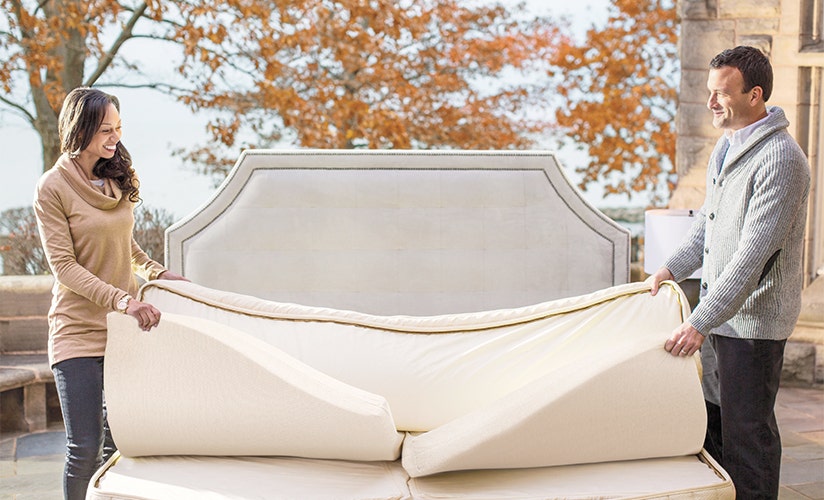 CERTIFIED ORGANIC + NON-TOXIC
Not only are the materials and factory certified, but the entire finished product is certified as well.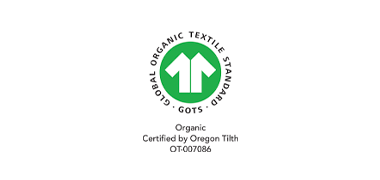 GOTS CERTIFIED
All Naturepedic mattresses meet the organic and non-toxic standards of the Global Organic Textile Standard (GOTS), a consumer goods certification recognized by the U.S. Department of Agriculture (USDA).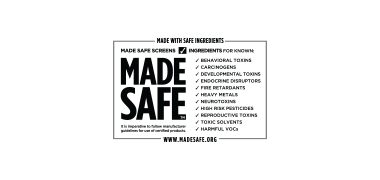 MADE-SAFE CERTIFIED
Naturepedic mattresses have been scrutinized by experts to ensure they do not contain harmful ingredients or release vapors, gases, or by-products that could impact human health.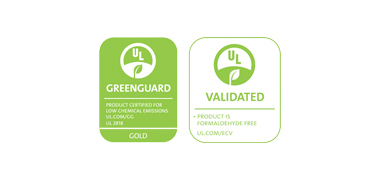 UL/GREENGUARD CERTIFIED
Naturepedic mattresses have been tested and certified by UL/GREENGUARD laboratories for low chemical emissions. They are additionally certified as formaldehyde-free.
HELLO ORGANIC, GOODBYE CHEMICALS™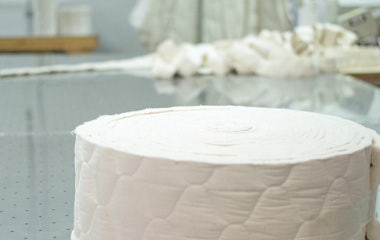 NO FLAME RETARDANTS
Every Naturepedic mattress passes all government flammability requirements without ANY flame retardant chemicals or barriers. That's right - none at all! This is due to our smart natural mattress design and the elimination of highly flammable synthetics such as polyurethane foam.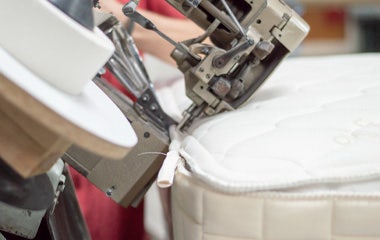 NO GLUES OR ADHESIVES
It's really hard to find a mattress these days without glues. Even "organic mattresses" often contain adhesives, especially in their coil systems. At Naturepedic, we've engineered custom processes to completely eliminate glues and adhesives. We're 100% committed to chemical safety - and honesty!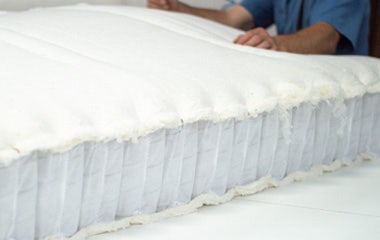 NO POLYURETHANE FOAM
Polyurethane foam, including memory foam and all its variants, can be found in nearly all conventional mattresses. It's made primarily from petroleum and other chemicals and is highly flammable. At Naturepedic, we've completely eliminated this material from all our products.
HANDCRAFTED QUALITY YOU CAN TRUST
Featuring skilled Amish craftsmen who love and care about their work
handcrafted quality you can trust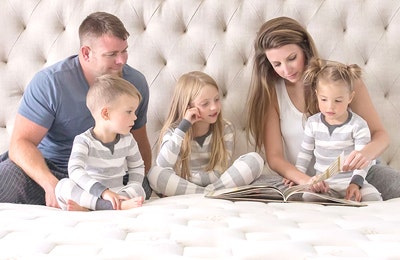 PROUDLY MADE IN THE U.S.A
Naturepedic is proud to offer the very best organic mattresses - made right here in the U.S.A. We use a combination of domestic and imported fabric and components when crafting our mattresses.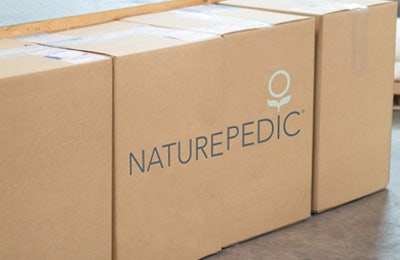 90 DAY MONEY BACK GUARANTEE
Try our mattresses risk-free for 90 days. If you're not completely satisfied, we will happily take it back for a full refund (applies only to orders placed directly with Naturepedic). We are humbled by your trust and will do everything in our power to ensure your absolute satisfaction!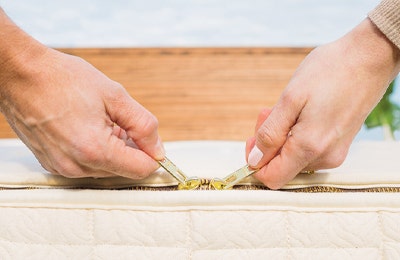 20-YEAR LIMITED WARRANTY
We stand behind our products 100% and have been making organic mattresses since 2003.
With first class customer service and a 20-Year Limited Warranty, you can rest easy knowing you're in good hands.
EASY SETUP
CONVENIENT DELIVERY
EOS ships compressed and roll-packed for quick and easy delivery and setup.

Super Comfy and Environmentally Conscious Bed!
"How great is it to have the ability to customize an organic mattress?!? All of it came in 5 boxes and was easily put together in less than 30 minutes. Unlike some other mattresses I've had, this one smelled great right out of the box and did not feel like it was outgassing toxic chemicals. Yay!"
choose a topic to learn more
specifications
SKU
SIZE
DIMENSIONS
PRICE
EPT-
TWIN
38" x 75" x 15"

$2,499

$3,499 CAD

EPTXL-
TWIN XL
38" x 80" x 15"

$2,699

$3,779 CAD

EPF-
FULL
53" x 75" x 15"

$3,699

$5,179 CAD

EPQ-
QUEEN
60" x 80" x 15"

$3,999

$5,599 CAD

EPK-
KING
76" x 80" x 15"

$4,799

$6,719 CAD

EPCK-
CAL KING
72" x 84" x 15"

$4,799

$6,719 CAD

Also available with latex-free microcoils. For blended latex/microcoil configurations or wool-free vegan options, please contact us.