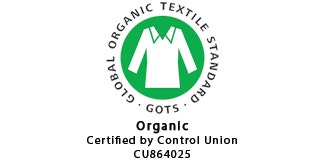 Made In A GOTS Certified Organic Facility

All Naturepedic mattresses, foundations, toppers, pillows, changing pads, breathable covers and other select accessories are made in the U.S.A. with domestic and imported fabric and components. However, Naturepedic sources some of its accessories from reputable certified organic businesses overseas including India, Sri Lanka and Pakistan. Unlike the conventional textile industries, certified organic facilities are leading the way in affecting positive change. In particular, GOTS certified factories get regularly inspected and must meet the following requirements:
Certified humanely made

Certified decent living wages

Certified fair renumeration

Certified worker employment rights

Certified no child labor

Certified no discrimination

Certified safe and hygienic working conditions

Certified reasonable working hours

Certified occupational hazard controls

Certified social compliance management

Certified ethical business behavior

Certified quality assurance system
By supporting businesses in these countries that are "doing it right," we are helping their employees work and live to a higher standard.