organic + breathable + waterproof
The only certified organic mini crib mattress that's also breathable!

Sleep easy knowing your little one is safe
"I can sleep easy knowing my little one is safe sleeping on this organic and breathable mattress. It fit our mini crib perfectly. Diaper came loose one day and it was easy to launder the mattress cover. Very pleased with this purchase!"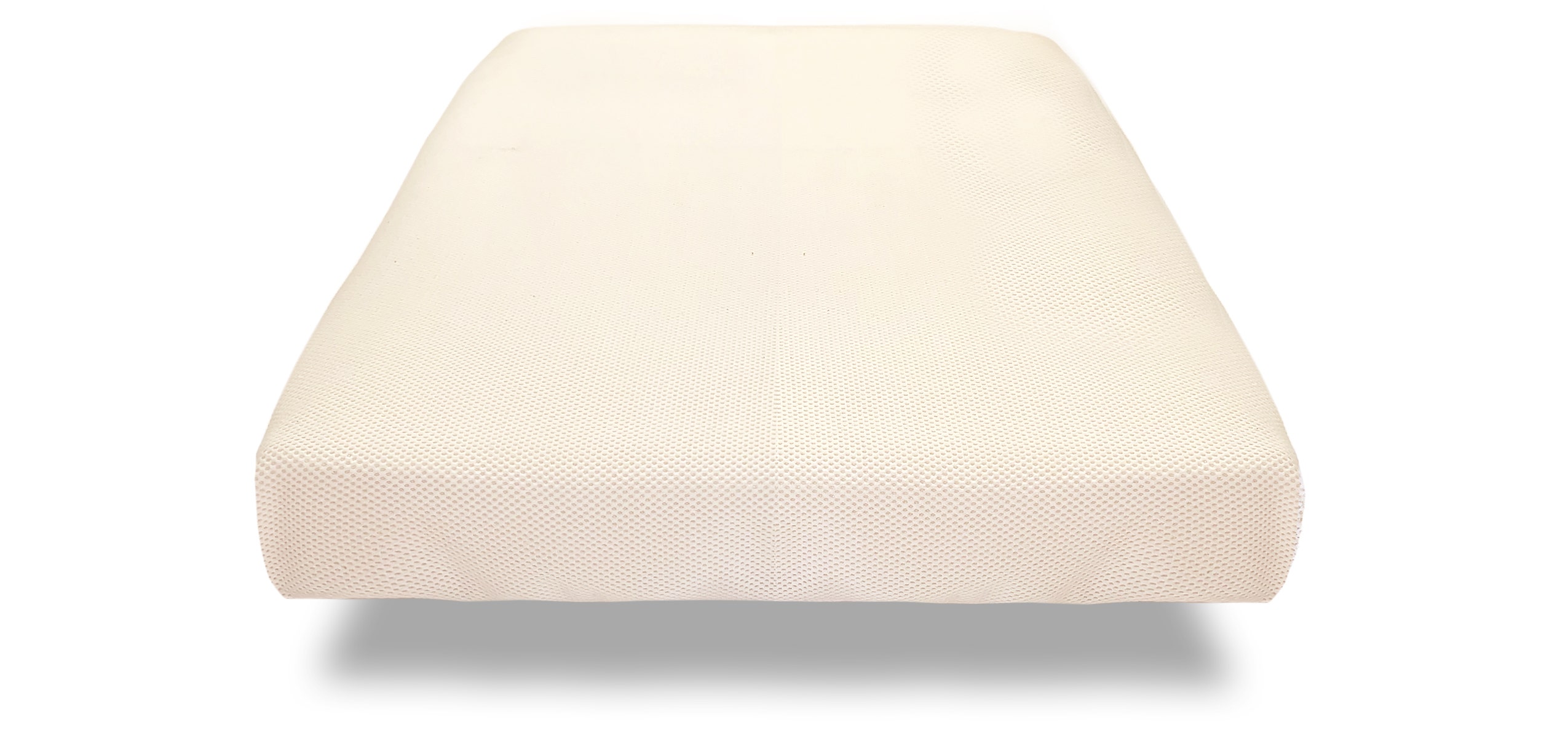 what's inside

organic cotton fabric with three-dimensional breathable space

wipe-clean waterproof core (organic cotton fabric with waterproof coating)

layers of organic cotton and pla batting

wavesupport™ core (lightweight for easy lifting)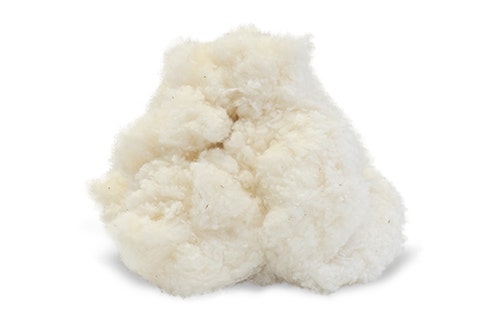 organic cotton fabric + fill
Organic cotton is the purest form of cotton and a healthier alternative to synthetic fabrics and foams. Naturepedic uses only U.S. grown and certified organic cotton as filling and buys directly from USDA certified sources.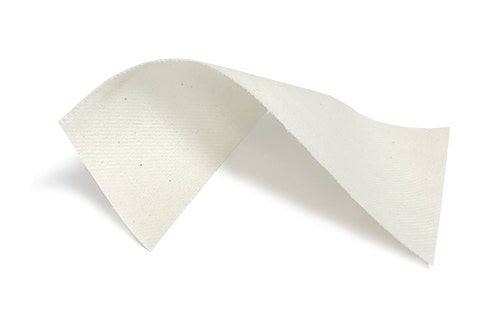 waterproofing
The mattress features an easy-to-clean organic cotton fabric with a patented LDPE waterproof coating so pure it actually meets food contact standards (made from non-GMO sugarcane without any glues or adhesives)!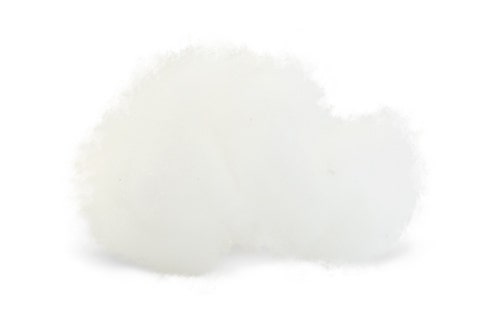 pla layer
PLA is a high-performance synthetic fiber made from non-GMO sugarcane that adds resiliency and unique performance characteristics. Free from harmful chemicals, this material is featured on the toddler side.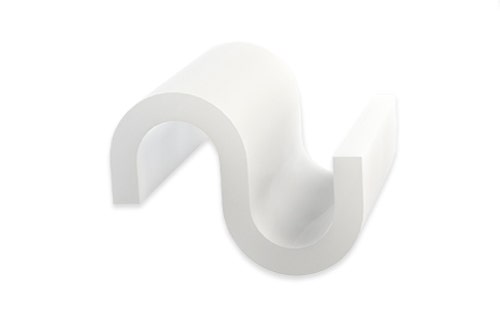 wavesupport™ core
Our patented wavesupport™ core is strong yet lightweight, making it easy to lift the mattress and change the bedding. Made in-house with full-perimeter edge support to prevent the edges from squishing and to reduce the risk of entrapment.

"Nothing but the best! I bought this mattress for my new grandbaby :-) I know about this mattress from years of selling it and it is a very safe and healthy choice."
breathability done right
Breathable crib mattresses are all about added comfort and safety. Simply put, babies tend to cry more when they're uncomfortable. Airflow under the baby allows heat to dissipate more efficiently, helping regulate temperature for less sweaty backs. According to airflow tests, breathability may also increase safety by allowing air to flow more freely around the baby.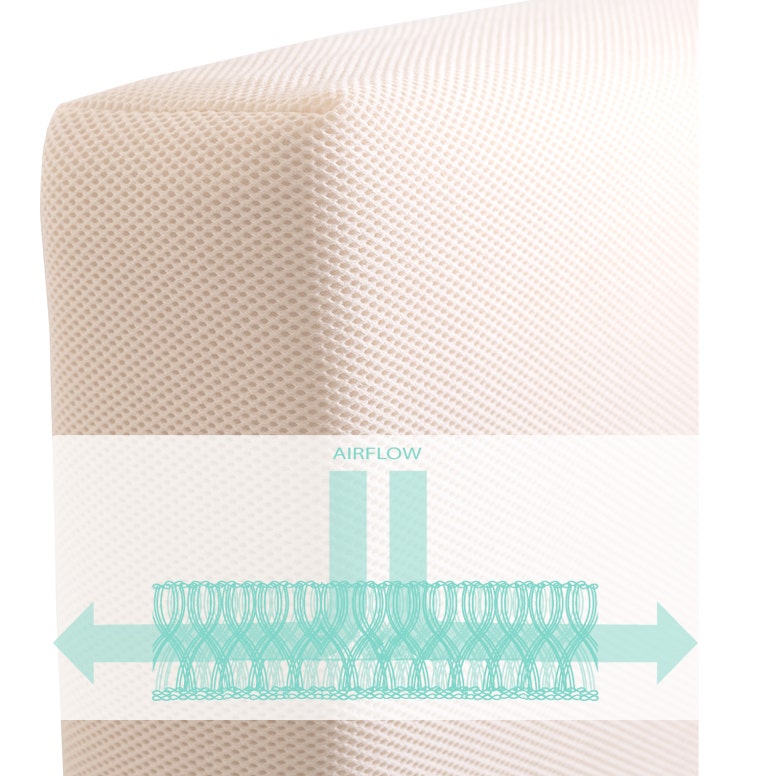 how it works
The breathable fabric is 3-dimensional, allowing air to flow through the fabric and under the baby for 360° air circulation. Since air is able to pass freely through the cover's 3D structure, babies can breathe right through it!
practical design
The breathable function is encapsulated in a washable cover that completely hugs the mattress. This removable layer has a waterproof backing that keeps the mattress clean and protected from urine, spit-up, and other messes. In the event of an accident, simply replace with a spare cover or put the baby back to sleep on the fully functional underlying mattress. The cover can then be machine washed and dried at your convenience.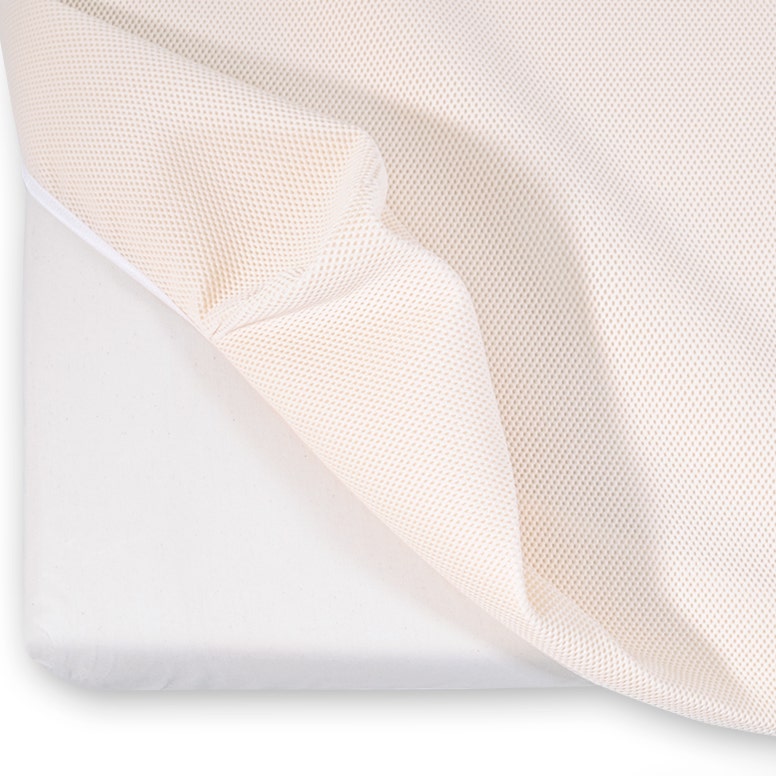 firm support
The Organic Breathable Mini Crib Mattress follows CPSC and pediatrician recommendations for firm support and a snug fit so your baby gets the firm, flat surface recommended for safer sleep.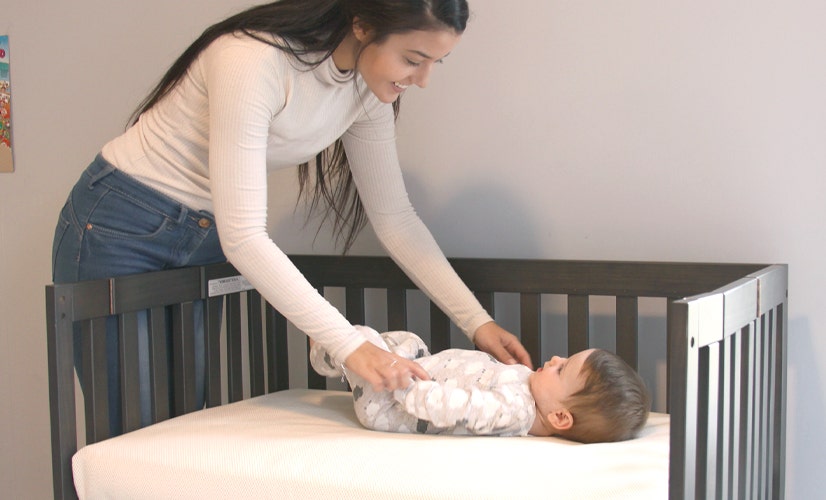 CERTIFIED ORGANIC + NON-TOXIC
Not only are the materials and factory certified, but the entire finished product is certified as well.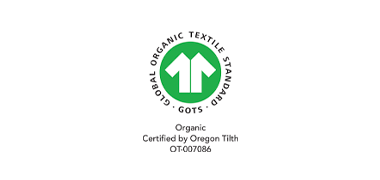 GOTS CERTIFIED
All Naturepedic mattresses meet the organic and non-toxic standards of the Global Organic Textile Standard (GOTS), a consumer goods certification recognized by the U.S. Department of Agriculture (USDA).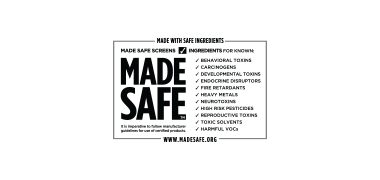 MADE-SAFE CERTIFIED
Naturepedic mattresses have been scrutinized by experts to ensure they do not contain harmful ingredients or release vapors, gases, or by-products that could impact human health.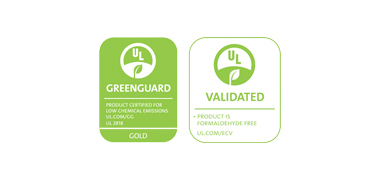 UL/GREENGUARD CERTIFIED
Naturepedic mattresses have been tested and certified by UL/GREENGUARD laboratories for low chemical emissions. They are additionally certified as formaldehyde-free.
hello organic, goodbye chemicals™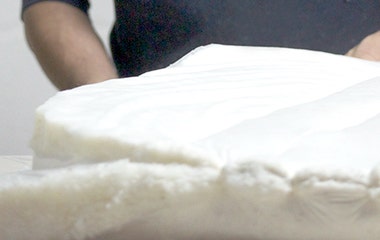 no flame retardants
Every Naturepedic mattress passes all government flammability requirements without ANY flame retardant chemicals or barriers. That's right - none at all! This is due to our smart natural mattress design and the elimination of highly flammable synthetics such as polyurethane foam.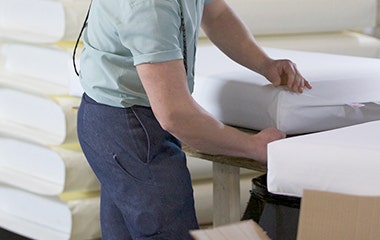 no vinyl, phthalates, PFCs, etc.
Say goodbye to vinyl/PVC, phthalates, perfluorinated compounds (PFCs), biocides, and other questionable chemicals commonly found in crib mattresses. Naturepedic is 100% committed to chemical safety - and honesty!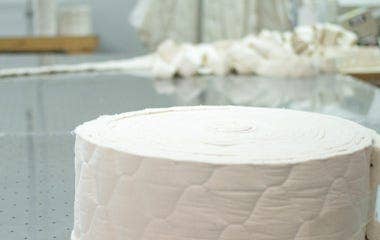 no polyurethane foam
Polyurethane foam, including memory foam and all its variants, can be found in nearly all conventional mattresses. It's made primarily from petroleum and other chemicals and is highly flammable. At Naturepedic, we've completely eliminated this material from all our products.
handcrafted quality you can trust
Featuring skilled Amish craftsmen who love and care about their work
handcrafted quality you can trust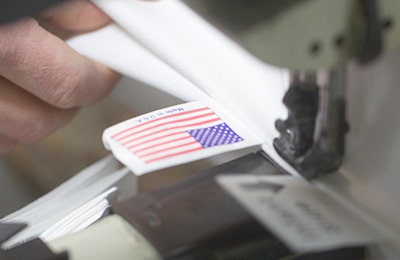 proudly made in the U.S.A.
Naturepedic is proud to offer the very best organic mattresses—made right here in the U.S.A. We use a combination of domestic and imported fabric and components when crafting our mattresses.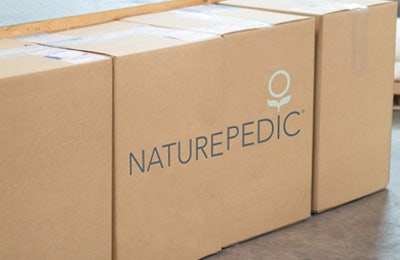 30-day money back guarantee
Try our products risk-free for 30 days. If you're not completely satisfied, we will happily take it back for a full refund (applies only to orders placed directly with Naturepedic). We are humbled by your trust and will do everything in our power to ensure you love your new mattress.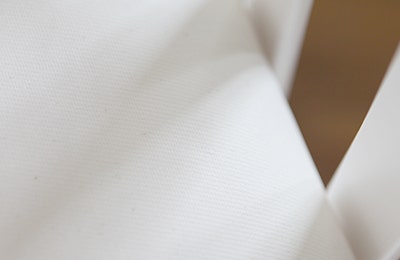 lifetime limited warranty
Ever since we started making organic mattresses in 2003, we firmly stand behind each and every product.
With first-class customer service and a Lifetime Limited Warranty, you can rest easy knowing you're in good hands.

Well-Made, Beautiful Quality Mattress
"We are very pleased with our Naturepedic crib mattress and were very impressed by the quality. It gives us such peace of mind to know our newborn is sleeping on something organic and breathable. We would absolutely purchase another Naturepedic mattress in the future."
choose a topic to learn more
specifications

Approximately 23.5" x 37.5" x 3"". Fits standard mini cribs.